Sen. Eddie Lucio, Jr. (D)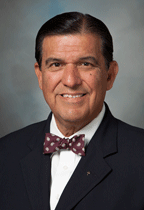 TX Senator (Texas Senate)
Entered Office: 01-1991
Term Ends: 01-2017
District: 27
General Information
Profession: Advertising Executive
Home Town: Brownsville
Birthdate: 01-20-1946
Spouse: Minnie

Personal Information
BS-Pan American University

H-1986-90; S-1991-present

Senator Eddie Lucio, Jr., a native of Brownsville, was elected to the Texas Senate in November 1990, having first served two terms in the Texas House of Representatives. He began his public service in 1971 when he became Cameron County Treasurer, the youngest ever elected to that post in the state. Later, he served as a Cameron County Commissioner.

Office Information
Dist. 27 - Cameron, Hidalgo (42%), Kenedy, Kleberg, Willacy
Committees
Intergovernmental Relations-Chair; Education-VC; Natural Resources and Economic Development; Subcommittee on Border Security; Veterans Affairs & Military Installations
Contact and Phone Numbers
Capitol Office:
3S.5
Capitol Phone: (512) 463-0127
Capitol Fax: (512) 463-0061
Website
District Map
Contact via Email

Cameron County District Office
7 North Park Plaza
Brownsville, TX 78521
(956) 548-0227
Fax: (956) 548-0440

Hidalgo County District Office
1210 W. Interstate 2
Suite 10
Pharr, TX 78577
(956) 787-5227
Fax: (956) 787-5337


Staff