David L. Green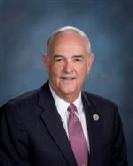 General Information
Personal Information
EDUCATION:
Dallas Independent School District
Graduate of W.H. Adamson High School (1957)
Southern Methodist University (1961)
Bachelor of Business Administration (Economics Major)

BUSINESS:
Retired President and (CEO), Dallas Commercial Warehouses, Inc.

MILITARY:
Reserve Commissioned Officer - U.S. Army Reserve (1963-1967)

FAMILY:

Wife - Virginia Anne Green (Retired Teacher)
Daughters - Laurie Jones and Julie Hargrove
Granddaughters - Hannah and Rachel Sargent, Reagan and Grayson Jones

CIVIC ACTIVITIES:

Duncanville City Councilman since May 2001 , elected Mayor Pro Tem in 2002. Elected Mayor in May 2004. Member of Duncanville Planning and Zoning Commission 1998 to 2001, Vice-Chairman for two years. Past Chairman, Board of Directors, Oak Cliff Chamber of Commerce. Past Chairman, ESAA Adv. Committee of Dallas Independent School District . Past Chairman, Southwest Dallas County Regional Transportation Committee. Member Joe Pool Lake Planning Council. Past Vice ­Chairman, Dallas Motion Picture Classification Board. Past member of Dallas Convention and Visi tor s Bureau Board of Direc tor s. Recipient of the Distinguished Service Award of the Oak Cliff Jaycees. Past Chairman of Deacons of Cliff Temple Baptist Church . Past President of Duncanville Citizen Police Academy Alumni Assoc., Volunteer Duncanville Police Dept. Member and one of the organizers of "Partners for a Safe Duncanville". Member of Duncanville "Citizens on Patrol". Duncanville representative on the Policy Work Group of the Southern Gateway Project and the Southwest Dallas County Regional Transportation Committee. Member of the Board of Direc tor s of The Duncanville ISD Education Foundation . Past Executive Committee member of the Dallas Regional Mobility Coalition. Member of Duncanville Chamber of Commerce, serving on the Governmental Affairs Committee. Member of Duncanville Rotary Club. Past President Metroplex Mayor s' Association. Member of the Transportation and Communications Policy Committee of the United States Conference of Mayor s. Member of the Transportation and Infrastructure Steering Committee of The National League of Cities. Chair-Elect of Board of Direc tor 's Best Southwest. Executive Committee member and Vice-Chairman of the Transit Task Force of TEX-21. Founding member of The River of Trade Corridor Coalition. Member and representative to The Regional Transit Initiative. "2007 Man of the Year" of the Duncanville Chamber of Commerce. Member of Board of Directors North Texas Commission.