Steven McCraw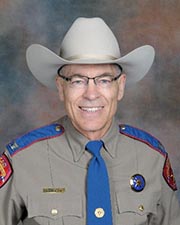 Director (Public Safety, Texas Department of)
General Information
Personal Information
Steve McCraw's public safety career has come full circle. The El Paso native began his law enforcement career with the Texas Department of Public Safety (DPS). Today, the members of the Public Safety Commission who have oversight of DPS named McCraw director of the state's law enforcement agency.

McCraw will replace Col. Stanley E. Clark, who served as director from September 2008 until he resigned in May amid allegations of harassment by at least two DPS employees. Col. Lamar Beckworth has been serving as interim director since then. Clark was the second DPS director to step down in a nine-month period. Col. Tommy Davis retired in June 2008.

McCraw has been serving as the state's Director of Homeland Security since August 2004. The position was created following the Sept. 11, 2001, terrorist attacks on the United States. He has been responsible for directing the day-to-day homeland security efforts of local, state and federal agencies. He also serves as the director of the Division of Emergency Management.

Prior to his service as Homeland Security Director, McCraw was the assistant director of the Federal Bureau of Investigation's (FBI) Inspection Division, overseeing evaluation of FBI operations, strategic planning and execution and internal investigations. He also served as assistant director of the FBI's Office of Intelligence and was special agent in charge of the San Antonio office. U.S. Attorney General John Ashcroft named McCraw director of the Foreign Terrorist Tracking Task Force in 2001.

Contact and Phone Numbers
(512) 424-7770

Other Offices Held