Richard Knight, Jr.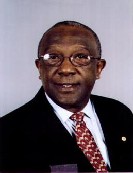 Board Member (Texas Southern University, Board of Regents)
Entered Office: 12-10-2007
Term Ends: 02-01-2017
General Information
Home Town: Dallas

Personal Information
Richard Knight Jr. of Dallas is chairman and managing partner of Pegasus Texas Construction LP. He is a former city manager of Durham and Carrboro, NC and Gainesville, FL, and was the first African-American city manager of Dallas. He is chair of the Black Contractors Association and Fazier Revitalization Inc., a board member of the Dallas Children's Medical Center and Dallas- Fort Worth Metroplex Salvation Army, and an executive committee member of the State Fair of Texas. He is also past vice president of the International City Management Association and past chair of Goodwill Industries of Dallas. He served in the U.S. Army. Knight received a bachelor's degree from Fort Valley State College and a master's degree in public administration from the University of North Carolina. He is reappointed for a term to expire Feb. 1, 2017.

Contact and Phone Numbers

Pegasus Texas Holdings, LLC
8150 Brookriver Dr., Ste. S-301
Dallas, TX 75247
(214) 634-4400
Fax: (214) 634-4410