The Honorable Gene Green (D)
Last modified on: 01-18-2017 22:57:33

()
---
General Information
Profession: Businessman
Home Town: Houston
Birthdate: 10-17-1947
Spouse: Helen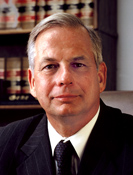 ---
Personal Information
BBA-University of Houston

THR-1973-1985; TS-1985-93; C-1993-2019. Rep. Green announced his retirement from congresson November 13, 2017.

GREEN, Raymond Eugene (Gene), a Representative from Texas; born in Houston, Harris County, Tex., October 17, 1947; B.B.A., University of Houston, Houston, Tex., 1971; attended University of Houston, Bates College of Law, Houston, Tex., 1973-1977; lawyer, private practice; business executive; member of the Texas state house of representatives, 1973-1985; member of the Texas state senate, 1985-1993; elected as a Democrat to the One Hundred Third and to the seven succeeding Congresses (January 3, 1993-2019t).