The Honorable Jeb Hensarling (R)
Last modified on: 01-18-2017 21:16:57

()
---
General Information
Profession: Businessman
Home Town: Dallas
Birthdate: 05-29-1957
Spouse: Melissa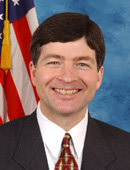 ---
Personal Information
BA-Texas A&M University, 1979; JD-University of Texas at Austin, 1982

C-2003-2018. - Rep. Hensarling did not run for re-election in 2018.

Lawyer, private practice; staff, United States Senator Phil Gramm of Texas, 1985-1989; business executive; elected as a Republican to the One Hundred Eighth and to the two succeeding Congresses (January 3, 2003-present).